AN ELECTRIC NEW ADDITION TO THE MUSTANG FAMILY
Built from all the passion of its iconic heritage, Mustang Mach-E is a new shape of freedom. Get ready for 0-60 thrills with zero emissions. Reserve your First Edition. Quantities limited. If speed, power, style and an unbeatable, eco-conscious performance is what you're looking for, then the newest member of the Ford Mustang line should be your first and only stop. Built from all the passion of its iconic heritage, Mustang Mach-E is a new shape of freedom for those adventure-seekers looking to take on life's biggest hurdles both responsibly and with the daring that only the unmatchable Mustang line can offer. Get ready for 0-60 thrills with zero emissions. 
Reserve your First Edition. Quantities limited.
A New Pony in the Stable
For the first time in 55 years, Ford is expanding the Mustang line-up with the all-electric Mustang Mach-E SUV joining the sports coupe, convertible and special editions, featuring an all-new infotainment system and connected vehicle technology.
This is Ford's first all-electric crossover, and the cutting edge name has been chosen to commemorate this giant step forward. Not only does the title Mach-E offer this model the high-tech appeal its inner workings deserve, but it also pays homage to some of Ford's classic Mustang designs, which often bore the title of Mach-1. This new addition to the Mustang family promises to uphold the top-tier capabilities of these early high-performance models while taking the brand into a new phase of eco-conscious manufacturing.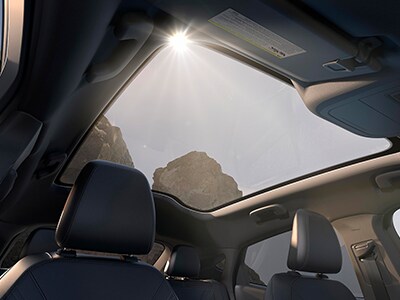 THE LUXURY OF SPACE
Exhilaration is better when it's shared. An impressively spacious interior with plenty of legroom means everyone will love the ride. Alongside the astonishing amount of legroom, the Mach-E also has all the cargo space you could need for any adventure. In terms of your standard storage areas, the electric Mustang has 29 cubic feet of cargo space behind its rear seats. However, when the rear seats are folded down, the amount of interior cargo space skyrockets to 60 cubic feet. That's plenty of space for a shopping trip, a weekend camping outing or fulling preparing for your favorite tailgating get-together.
FRONT-LOAD FREEDOM 
A convenient front trunk levels up your adventure game. Not only is this added 4.8 cu. ft. of storage space water-resistant, it's washable and features a convenient drain, making it perfect for tailgating, camping and muddy gear-toting. 
Ice can even be stored directly in the storage compartment for ease of access during get-togethers on the go. Utilizing this space for convenient, unique storage opportunities means no space is wasted in the Mach-E, further reinforcing its eco-friendly design and its dedication to making life easier for drivers everywhere.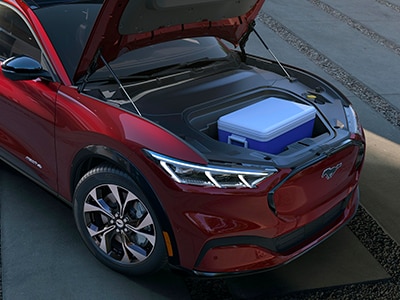 Seamless Technology
Making its debut in the Mach-E is the next-generation SYNC communications and entertainment system, a sleek and modern interface that uses machine learning to quickly learn drivers' preferences and gets even better over time, thanks to advanced over-the-air updates. Next-generation SYNC's 15.5-inch screen and adaptive dash card interface ditches complicated menus, making it easier to access features with touch, swipe and pinch controls that every smartphone user will be comfortable with.
The technology that rolls out with the car is expected to be impressive, but Ford plans to continue rolling out updates for the SYNC system in months following the car's launch. While these updates will make it even easier for drivers to access their apps and other important tech on the go, the system is already compatible with crucial applications such as Apple CarPlay and Android Auto. Furthermore, it features a powerful WiFi hotspot for staying connected while on the go and is paired with a top-tier Bang and Olufsen audio system so drivers can get the best out of every track they play via their favorite apps or the SYNC system's radio.
Reserve Now
* Indicates a required field
Ford was a leader in the plug-in market several years ago thanks to the C-Max Energi and Fusion Energi. In recent years, though, there hasn't been much buzz about electric Ford vehicles. That's all about to change thanks to the new electric Mustang. The 2021 Ford Mustang Mach-E is inspired by the brand's legendary pony car with which it shares a name, but this all-electric crossover is otherwise completely new and different. There's a lot to be excited about when it comes to this new electric vehicle, so learn more before you schedule your test drive.
Ford Electric Mustang Overview
Hitting dealership lots in late 2020, the 2021 Mustang Mach-E is completely powered by electricity. The engineers at Ford expect it to have an all-electric range of 300 miles, allowing you to go further with zero emissions. The cabin has plenty of space for five passengers, and the interior of this vehicle will keep you comfortable along the way thanks to cutting-edge technology. The innovative design extends to cargo and storage, so you'll have plenty of space for everything you want to bring with you.
2021 Ford Mustang Mach-E Performance
Ford's first all-electric crossover is available with either rear-wheel drive or all-wheel drive, so every driver can match the capabilities to their lifestyle. Next, choose between the standard-range 75.7 kWh battery or the extended-range 98.8 kWh battery pack. Depending on the setup you select, the power goes from the battery to either the rear axle or to both axles.
When you choose the all-wheel drive for the 2021 Mustang Mach-E GT model, you'll get a sporty performance from 459 horsepower and 612 lb-ft of torque. That's good enough that this vehicle should be able to reach 60 miles per hour from a complete standstill in under four seconds. Even the less powerful models will still have impressive stats:
Horsepower ranging from 255 to 332
Torque ranging from 306 to 417 lb-ft
The wheels range in size from 18 to 20 inches, and the ones you select will also impact your performance. Finally, decide whether you want adaptive dampers so you can adjust the firmness of your ride. If you're not sure which options will give you the performance you want from your electric vehicle, take some test drives to see all of the capabilities in action.
Mustang Mach-E Battery
Depending on how you tailor the electric vehicle to fit your lifestyle, you can expect to get between 210 and 300 miles of range from your 2021 Mustang Mach-E. The range depends on the battery pack you select as well as the type of electric motors. No matter which model you choose, you can expect charging to be efficient and convenient. Every 2021 Mustang Mach-E has fast charging capabilities. 
Furthermore, Ford claims it will have the largest charging network in the country. This will include tens of thousands of charging stations throughout the United States and even parts of Canada. At home, a 120-volt outlet will add 30 miles of range while you charge overnight, and a 240-volt outlet will fill 80% of the battery during an overnight charge. If the Ford mobile charger isn't enough for your needs, order the Ford charge station and have it installed at home.
Ford Electric Mustang Interior
The inside of the newest Ford electric vehicle is just as impressive as the performance itself. The battery has been thoughtfully positioned under the floor of the vehicle, which leaves more room for everything else. While the sporty exterior may remind you of the other Ford Mustang, the interior is much more spacious.
The dashboard is attractive, and it offers access to the latest technological features available. Additional comfort features include heated front seats, a heated steering wheel, and customizable ambient lighting inside the vehicle. Additional features like a panoramic sunroof and wireless charging make the experience feel modern and luxurious.
The space is as functional as it is refined. There's a flip-up armrest in the center console, providing space for your personal effects between the driver and front-seat passenger. The front trunk gives additional room even beyond the 29 cubic feet of space behind the rear seats, and get 60 cubic feet of cargo space with the rear seats folded.
Test Drive the Ford Electric Mustang in Miami
You can find all of the latest and greatest Ford electric vehicles here at Midway Ford Miami. People visit us from all over Kendall and the rest of Dade County to find new Ford vehicles for the most reasonable prices around. Our knowledgeable salespeople will work with you to make sure you find a vehicle with all of the features and capabilities you need. Come see us today to explore Ford's electric vehicles, learn more about the electric Mustang, and take a test drive.
Hours
Monday

9am-9pm

Tuesday

9am-9pm

Wednesday

9am-9pm

Thursday

9am-9pm

Friday

9am-9pm

Saturday

9am-8pm

Sunday

10am-7pm