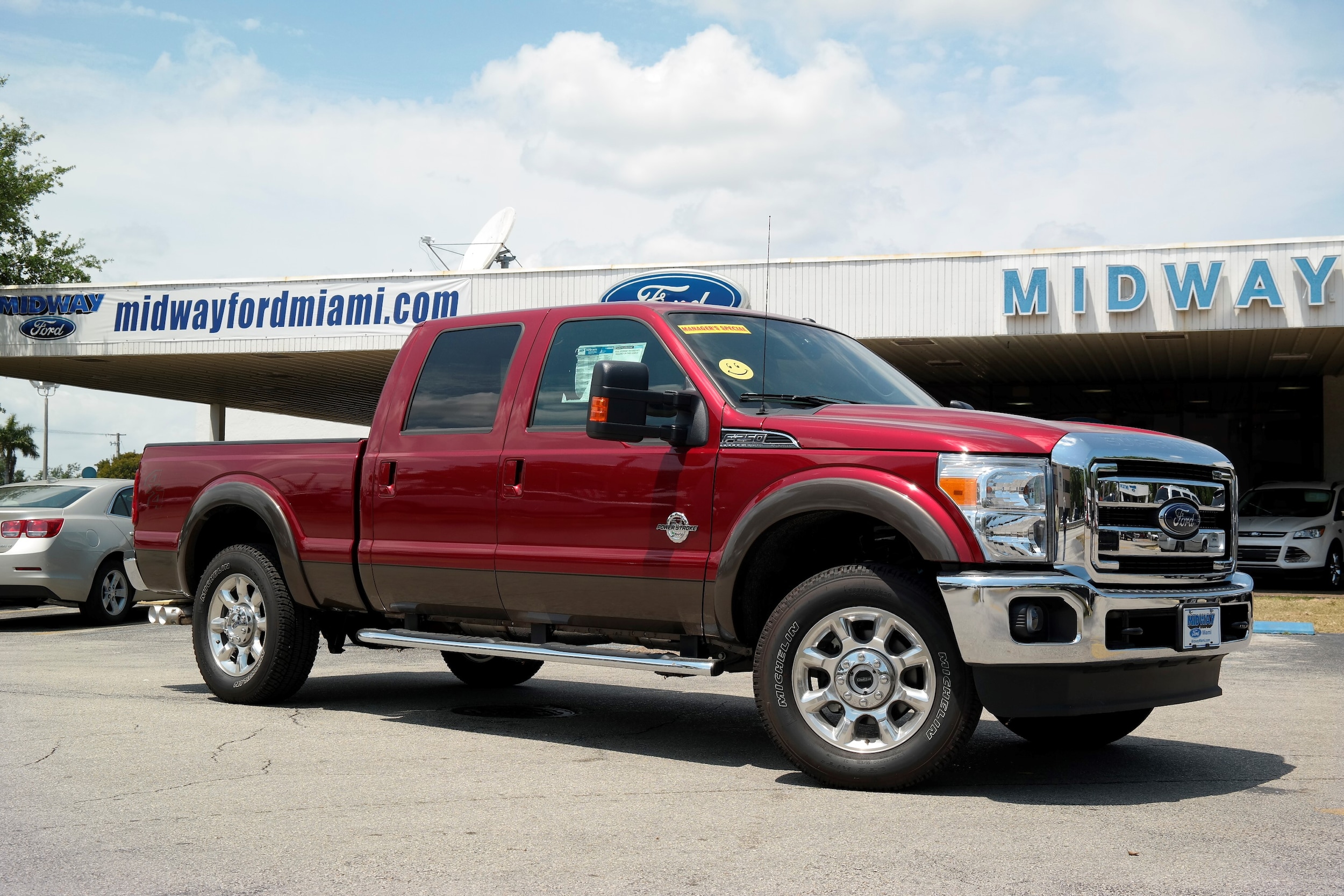 Stop by Midway Ford today and see why we are Miami's #1
•Dedicated State-of-the-Art Diesel Shop
•Master Certified Technicians
•Fully Stocked Diesel Parts Department
•Rental Cars Available
•Heavy Duty Towing Available
•Extended Warranties Accepted*
All Diesel Service Shop
Diesel trucks are known for being extremely durable, reliable, and efficient. As a result, people who are serious about their trucks often decide to opt for a diesel engine. Whether you're using your truck for work or towing your boat to the beach, it's important to keep it in top condition so it can continue to perform at its peak for many years to come. The best way to ensure that your diesel truck will maintain maximum efficiency is to keep up with its maintenance and service, taking care of any potential problems before they get out of hand.
Best Service for Diesel Trucks
If you're trying to make sure your truck is ready for the long haul, it's important to entrust its maintenance and service to professionals who are qualified to work on diesel engines. Here at Midway Ford Miami, we're your local source for all things diesel, and we're uniquely qualified to service diesel trucks from Ford in particular. Our service technicians are up to date with all of the latest best practices from the manufacturer, and we have all of the diagnostic tools and specialized equipment to perform diesel truck service quickly, efficiently, and correctly.
We've seen it all from simple maintenance work to serious repairs. Even if you're having problems with your engine or your transmission, our professionals will get to work to get you back on the road as quickly as possible. We're proud to employ the best diesel truck mechanics in Miami, and you can expect all of the following when you bring your truck into our shop:
Dedicated State-of-the-Art Diesel Truck Shop

Master Certified Technicians

Fully Stocked Diesel Parts Department

Rental Cars Available During Service

Heavy Duty Towing Available if Necessary

Extended Warranties Accepted* 
Types of Service for Diesel Trucks
At Midway Ford Miami, we're equipped to handle all kinds of diesel truck maintenance. From the smallest jobs to the biggest, we're happy to do whatever we can to get your truck back on the road. We regularly perform services like the following:
Diesel Engine Maintenance, Repair, or Replacement

Diesel Engine Malfunction Diagnosis

Diesel Transmission Maintenance and Replacement

Filter, Hose, Belt, Fluid, and Lube Maintenance

Top of the Line Computer Diagnostic Equipment

Brake System Maintenance

Steering Mechanism Maintenance

Fuel Injection System Maintenance
Maintenance for Diesel Trucks
The best way to make sure your truck performs well for as long as possible is to stay ahead of potential problems. You can prevent costly repairs by bringing your truck in for regularly scheduled maintenance. As an authorized Ford dealer, we're especially qualified to help you keep up with your maintenance schedule as recommended by the manufacturer. We'll perform routine maintenance like changing the oil, checking the battery, and lubricating equipment and parts. We'll also perform an inspection to look for signs of problems.
Diesel Truck Service at Midway Ford Miami
Here at Midway Ford Miami, we know diesel trucks. We sell them, we buy them, and we service them. As your Miami Ford dealership, we're constantly seeing the best diesel trucks in America, and that's given us very high standards for what a vehicle should be. When you want to make sure your truck is producing as much power as it can and running as efficiently as possible for the long haul, we can give you the service you need. Whether you need service for a full fleet of Ford diesel trucks or just your personal pick up, bring your truck into Midway Ford Miami today or schedule an appointment.
Contact Us
* Indicates a required field
Hours
Monday

7am-7pm

Tuesday

7am-7pm

Wednesday

7am-7pm

Thursday

7am-7pm

Friday

7am-7pm

Saturday

7am-3pm

Sunday

Closed
Hours
Monday

7:00 AM - 5:30 PM

Tuesday

7:00 AM - 5:30 PM

Wednesday

7:00 AM - 5:30 PM

Thursday

7:00 AM - 5:30 PM

Friday

7:00 AM - 5:30 PM

Saturday

7:00 AM - 3:00 PM

Sunday

Closed
Hours
Monday

9am-9pm

Tuesday

9am-9pm

Wednesday

9am-9pm

Thursday

9am-9pm

Friday

9am-9pm

Saturday

9am-8pm

Sunday

10am-7pm