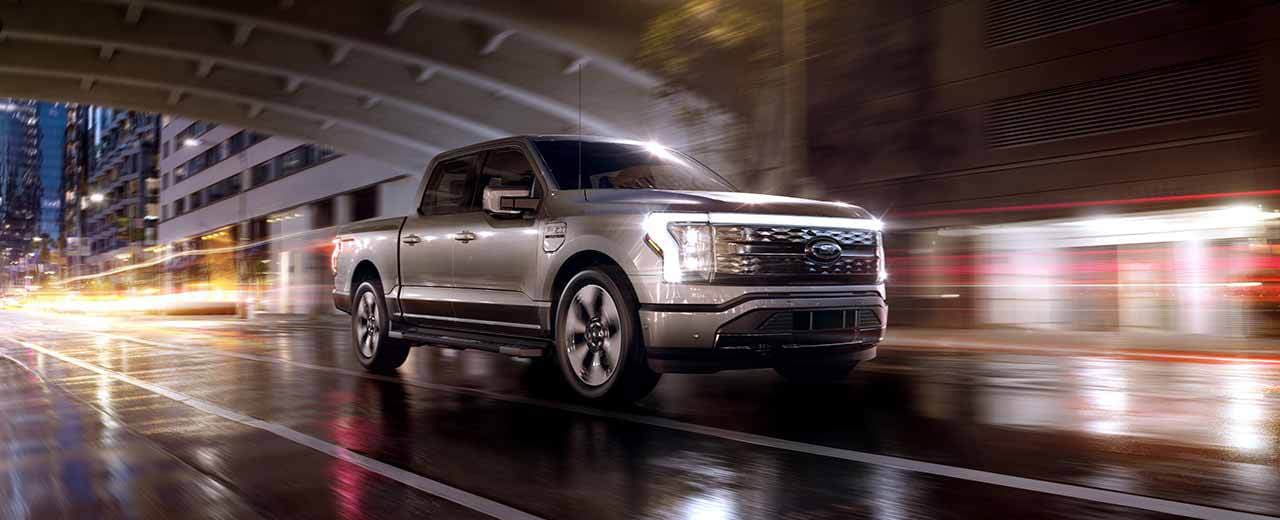 As you read this article about why all-electric pickups are the future of trucks, you'll learn:
We've reached a point in the advancement of automotive engineering where even electric pickup trucks are viable (and surprisingly affordable).
Electric pickup trucks have some key advantages over gas-powered trucks, which may lead electric trucks to dominate the market even sooner than you'd expect.
Of all of the impressive 2022 Ford Trucks, the 2022 Ford F-150 Lightning might be the most innovative, which is saying a lot.
Are Electric Pickup Trucks Really Possible Yet?
Electric vehicles have been a hot topic in the United States for at least a few years now. At first, they had an uncertain reputation and received mixed reviews that are common for experimental products. Some people saw them as the future of the automotive industry, while others thought they were underpowered, unattractive, and unaffordable. In some ways, both groups were correct.
There have been some serious advancements in the last few years, though, and EVs have been generating even more buzz as they get better and better. Electric vehicles have gone from being weak and boring to offering some of the best acceleration and performance available. Now, we're starting to see that even
electric pickup trucks
are possible. Not only are they feasible, in fact, but there are actually some benefits you'll realize when you buy an electric pickup truck instead of one that's powered by a traditional internal combustion gas or diesel engine.
Benefits of Electric Trucks
For many years, truck companies seemed to be competing to equip their vehicles with the biggest gas engines they could find. In some ways, they still are. Still, we're starting to come out on the other side of the race to build the largest, thirstiest gas engines. Instead, legendary American truck companies like Ford are starting to future-proof their designs by finding ways to do more with less. Once you can get past the mental block of leaving V8s and diesel engines behind you, it becomes easy to see how there are some incredible benefits of electric pickup trucks.
Immediate Torque and Power
One of the biggest advantages of electric trucks compared to gas trucks is that torque and power get delivered to the wheels almost instantaneously. Electricity can make its way to where the rubber meets the road faster than power from internal combustion. Without diving into the technical weeds, this is because electricity can flow straight from the electric motor to the wheels at the speed of, well, electricity.
Compare that to a regular gas engine, which requires extra steps to generate and transfer that power. First, gas has to go into the engine, where it can combust in the cylinder. This cylinder pushes gas into the piston, which rotates the crankshaft, and so on. The energy from the combustion has to travel through a system of gears before it gets through the powertrain to the wheels. All of these mechanical steps take more time, and power from the engine.
If you regularly tow or haul, you're likely to notice a significant upgrade to your capabilities once you switch to an electric truck. The immediate acceleration nature of an electric truck's power, especially when combined with the incredible torque output offered by EVs, allows you to do more, do it better, and do it faster.
More Storage
One convenient side effect of creating capabilities without the need for a massive engine is that you're left with empty space that's about the size of the massive engine you don't need. This leaves room for more storage in the front of the vehicle where the gas engine would normally go. Since storage and cargo capacity are some of the main reasons people buy trucks in the first place, electric trucks are even more valuable than their combustion-powered predecessors.
Your Truck Becomes a Rolling Generator
Whether you use it for work or play, owning a truck is all about increasing your capabilities. Whether you're bringing your favorite recreational gear to the campsite or you're bringing your power tools to the job site, you'll need a way to power everything once you arrive. With an electric truck, that gets a lot easier. Outlets have been in vehicles for many years now, but the batteries in gas-powered trucks are better suited for charging smartphones than anything else.
When you have a massive electric motor that's capable of powering something as big and powerful as the F-150, for example, just think about all of the other tools it can support. The 2022 Ford F-150 Lightning with Pro Power Onboard offers an available 9.6kW of maximum power through 11 different outlets. There are four 120V power outlets in the bed, two in the cab, and four more in the front trunk. The bed also has a 240V outlet for those times when you need even more power.
Traditional EV Benefits
Caring about the environment isn't just a fad. As we learn more about the impact gas engines have on the earth, the importance of reducing our carbon footprint is becoming increasingly clear. The engineers at Ford are helping to lead the way toward a greener future with various hybrids and EVs, including pickup trucks. In addition to the ethical component of reducing the dependence on fuel, there are some practical benefits of electric trucks as well:
Fewer visits to gas stations, especially because your truck can recharge overnight and be ready for your daily driving
Less expensive operation because charging your vehicle with electricity is less expensive than filling it with gas
Fewer service visits because electric trucks may require less maintenance than gas-powered trucks
Quit operation because the electric motor can deliver power almost silently
2022 Ford F-150 Lightning
If you're excited about electric pickup trucks, on the whole, you'll be especially blown away by the 2022 Ford F-150 Lightning. On top of all of the other benefits of electric trucks, the engineers at Ford are targeting 10,000 pounds of towing capacity with this beast. That's a lot of trailering for work or play.
It can even provide backup power for your home in a pinch. If your home is properly equipped, the Ford F-150 can act as an emergency generator in the event that we lose power here in Miami. With an extended-range battery, Ford Intelligent Backup Power can power a home for up to three days on a fully charged battery, and possibly as long as ten days if you're rationing power.
Buy an Electric Pickup in Miami
Here at
Midway Ford Miami
, we're firm believers in meeting the future head-on. We've always believed in looking far forward, thinking ahead to what our customers will need tomorrow even as we serve them today. It's why our customers say we're the best Ford dealership in Dade County and why people visit us every day from Miami, Kendall, and all of the surrounding areas. When you're ready to check out our selection of 2022 Ford Trucks and learn more about electric pickup trucks like the 2022 Ford F-150 Lightning,
reach out to us online
or visit us in person.