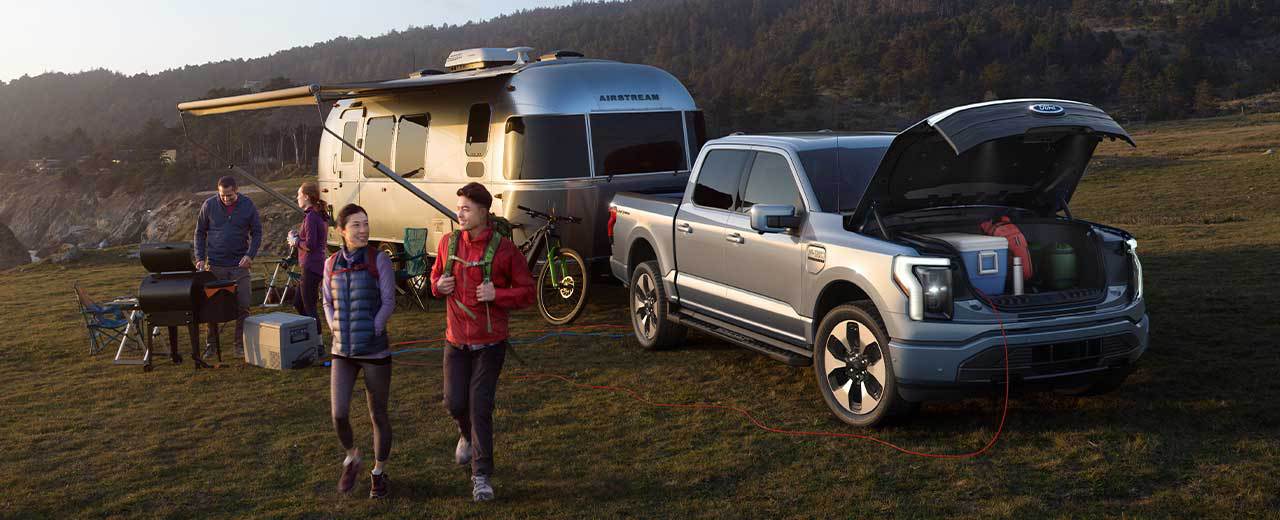 What You'll Learn
As you read this 2022 Ford F-150 Lightning review, you'll learn:
This innovative electric pickup truck will still offer all of the things you love about Ford trucks.

The Ford Lightning price is predicted to be around $40,000 before incentives are applied, and those incentives could help drivers save a good bit of money.

The 2022 Lightning will be the first-ever F-Series to go completely gas-free, making it a historic advancement for the industry.
F-150 Lightning Overview
The F-Series has been America's best-selling truck for 44 years already, and now it's taking a huge step forward. The 2022 Ford F-150 Lightning is an all-new, all-electric version of the same impressive truck that has become an American legend. As the first F-Series to run without needing any gas, it still offers the same capabilities that have made this truck famous in the first place. Drivers can enjoy advanced technology and other smart features that help deliver an incredible driving experience.
The F-150 Lightning is a 100% Electric Truck
This is the smartest F-150 Ford has ever built. Still, no other technology in this truck is as impressive and groundbreaking as the zero-emission propulsion system. Drivers can enjoy the rapid torque generation that has become a hallmark of the EV industry while also counting on things like intelligent range and Ford Intelligent Backup Power.
State-of-the-Art Ford Tech
While the propulsion system is the most innovative thing about this truck, it isn't the only important technology. The F-150 Lightning receives software updates over the air to keep all of the technology up to date and ensure that drivers stay connected no matter where they go. Thanks to FordPass integration, drivers get remote access to the truck as well as mobile communication with the Ford Connected Charge Station and the Ford Charge Station Pro. Whether charging at home or using public charging, access will always be seamless.
This EV is Still Built Ford Tough
Electric vehicles in the past have had reputations for being uninspired and underpowered. That's simply not the case anymore. The new electric F-150 Lightning is built for hard work and hard play - it still had to go through all of the same tests as every other F-Series. In other words, there's no sacrificing toughness or dependability here, and this truck will still be able to live up to the standard set by all of the other Ford trucks before it.
Ford Intelligent Backup Power and Pro Power Onboard
The engineers who built this truck seem to have thought of everything. The F-150 can plug into your house to charge, just like pretty much every other EV. The thing that makes this vehicle unique is that it can also power your house. If your home is properly equipped and the home transfer switch disconnects it from the grid, Ford Intelligent Backup Power can automatically start powering your house, acting as a sort of backup generator.
When fully charged, the battery in this truck is strong enough to power an entire home for up to three days. You might be able to make that power stretch for as many as 10 days if you're rationing electricity. The  F-150 Lightning battery combines with the available 80-amp Ford Charge Station Pro to become an essential technology you can count on when severe weather or other challenges threaten the power at your home.
Just as your truck can act as a generator for your entire home, you can use it as a mobile source of power on the job site or just about anywhere else you go. Pro Power Onboard connects you with an available 9.6 kW of maximum power. There are 11 total outlets, including four 120V outlets in the front, two more in the cabin, and four in the bed. The final outlet is a 240V outlet in the bed for when you really need a big boost of electricity.
BlueCruise and Power My Trip Make Life Simpler
With available BlueCruise, the vehicle can handle hands-free driving on more than 100,000 miles of roads. FordPass Power My Trip also makes life easier by considering the current charge level and showing convenient charging locations that are on or near your route. Whether you're on a road trip or looking for new charging stations in Miami, this truck is smart enough to help you.
F-150 Lightning Prices
Every model of the 2022 Lightning will come standard with four-wheel drive and a dual-motor electric propulsion system. The base model is likely to start at around $40,000. From there, drivers can go up trim levels to add luxury and convenience features with the same powertrain. All things considered, the net cost (after federal tax credits) of buying a 2022 Ford F-150 Lightning is likely to be comparable to buying a gas-powered F-150.
For example, the Lightning XLT has a base price of $52,974. The gas-powered F-150 XLT SuperCrew 4x4 with a 3.3-liter V6 will cost about $44,510 (before the $1,695 delivery fee). The price difference is $8,437, but drivers will be able to seek a $7,500 federal tax credit, which would reduce the difference to under $1,000.
Do You Get Better Gas Mileage in Hot Weather?
As Miami residents consider the benefits of going green, this is a question we hear a lot. Hot weather can actually improve fuel efficiency. When the air is warm, there's less aerodynamic drag, and your engine can also warm up faster to reach an efficient temperature. On the other hand, opening windows or using AC can reduce fuel efficiency. Either way, no gas-powered vehicle can match the emission-free characteristics of an electric truck.
How Do I Maximize My Gas Mileage?
We've heard of all types of things people will do to try to increase gas mileage, from never driving above 45 miles per hour to overinflating tires. Some people have even suggested removing the passenger side mirror to reduce drag or driving around with the windows up and the air conditioning off. Many of the ideas people might use to maximize gas mileage range from uncomfortable and inconvenient to downright dangerous.
What Trick Gives the Best Gas Mileage?
No matter how many tips and tricks you're willing to experiment with to get the most from every gallon of gas, they won't compete with the number one trick for reducing your carbon footprint and spending less time at the pump:
Go green with an electric truck.
Why is My Gas Mileage Dropping So Fast?
Many things can happen over the lifetime of a gas-powered vehicle that will cause it to lose its gas mileage. Dirty or worn-out spark plugs are the most common culprit, but other problems with the oxygen sensors or fuel injectors can also arise. Avoid them by choosing an EV.
2021 Ford Trucks for Sale in Miami
No matter which F-Series appeals to you, you'll be able to find it at Midway Ford Miami. The 2022 Ford Lightning is expected in Spring of 2022, and we have the rest of the lineup available until then. Come stop by today!