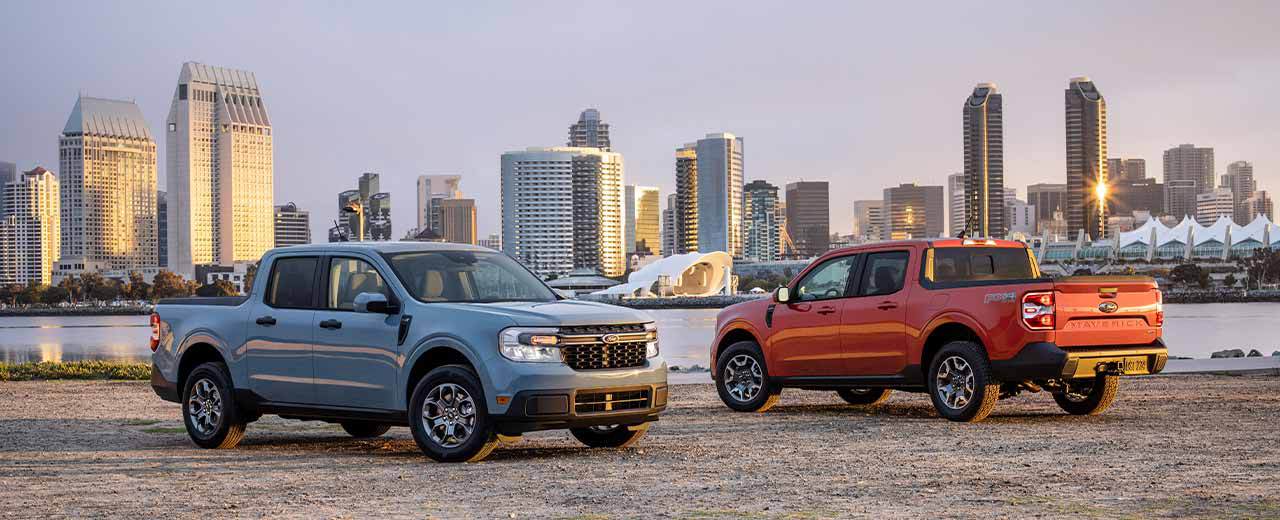 As you read this article about the benefits of hybrid pickup trucks, you'll learn:
Ford will be producing and shipping the 2022 Ford Maverick hybrid in the fall of 2021, making it the first fully standard hybrid pickup truck.
Ford also has the hybrid F-150, providing a more fuel-efficient version of this legendary pickup truck.
There are many advantages of hybrid trucks, some of which are obvious, and others might come as more of a surprise.
Benefits of Hybrid Pickup Trucks
Hybrid vehicles have been around for quite a while, and most drivers may already be familiar with many of their biggest advantages. Unfortunately, for a long time, hybrid vehicles were considered to be weak or impractical. That stereotype has been smashed by the advent of hybrid trucks like the F-150 hybrid and the
2022 Ford Maverick
, the first pickup truck that comes as a hybrid in its standard version.
The Ford Maverick offers more than enough power and performance for most drivers out there. In fact, part of the inspiration came from Ford designers watching people struggle with the cargo capabilities of SUVs, sedans, and crossovers. The team watched college students move into dorms and studied people visiting home improvement stores to get ideas for how this vehicle could be better than what was on the market before.
Then, of course, there's the Ford F-150 hybrid. This vehicle comes from perhaps the most legendary pickup line of all time, and it boasts all of the power and performance capabilities you'd expect. Actually, it might offer even more than you'd expect. The
2021 Ford F-150
3.5-liter PowerBoost full hybrid V6 is unlike anything else out there, delivering a massive 430 horsepower and 570 pound-feet of torque with its hybrid powertrain.
Now that these two trucks have made hybrids available to people who demand more from their vehicles, it's time to revisit some of the benefits of hybrids that made them so popular in the first place:
1. Higher Gas Mileage - One of the most obvious benefits of hybrid vehicles is getting great gas mileage. In other words, your hybrid pickup truck will be able to go further on the same amount of fuel compared to other trucks. This is because they're also deriving some of their power from an electric motor, which puts less strain on the gas engine.
2. Cleaner Energy - When an engine burns gasoline, it releases harmful emissions, including CO2. Since hybrids are burning less gas, they aren't producing these harmful emissions in such large quantities. This reduces the environmental impact of driving and helps protect the earth.
3. Reduced Need for Fuel - In addition to the fact that these trucks produce less 
harmful emissions than gas vehicles do, they also have lower fuel dependence. That means they're using up less fossil fuels, which further reduces environmental impact. As an added bonus, you won't have to stop for gas nearly as often, which will save you time and money over the course of your vehicle's lifetime.
4. Higher Resale Value - Hybrids are known for holding their value extremely well. When you consider that powerful Ford pickup trucks are also known for having great resale value, you may be dealing with a synergistic effect. When you buy a hybrid pickup truck made by Ford, you should expect it to retain a lot of its value for many years to come.
5. Unlimited Range - Electric vehicles are becoming more common, but the biggest downside is that they only offer a limited range. Though they can be recharged at public stations, it can take a long time, which is especially inconvenient on long road trips or in the middle of the workday for people who drive a lot. Since hybrids can still be filled up with gas, there is no concern that you will run out of range, and refilling with gas only takes a minute or two.
2021 Ford F-150 Hybrid
The class-exclusive 3.5-liter PowerBoost full hybrid V6 engine is in a class of its own. It has a maximum available towing capacity of 14,000 pounds, so you'll be able to make the most out of all of the other hauling and trailering features. The inclusion of an electric motor endows this truck with plenty of capabilities that go even beyond the impressive 430 horsepower and 570 pound-feet of torque. For example, with Pro Power Onboard, this truck delivers the best usable power on demand in its class.
There are three available outputs available, each of which is accessible via outlets throughout the cabin and the truck bed. Depending on which you select, your truck can act as a generator that will deliver either 2.0kW, 2.4kW, or 7.2kW, which is a great deal of electric power. You can even monitor your power consumption and keep track of how much wattage you have left. This is a huge advantage for both work and play, at the job site or the campsite.
2022 Ford Maverick
This truck is considerably smaller than the F-150, but the Ford Maverick pickup truck is every bit as impressive in its own way. For one thing, it's one of the only pickup trucks under $20,000. In and of itself, that makes it appealing to many drivers who love the convenience and flexibility of a truck bed but who don't want to pay an arm and a leg. If you don't need the type of towing and hauling capabilities the powerful F-150 delivers, you'll appreciate the smart size and value of the 2022 Ford Maverick.
When it gets delivered in the fall of 2021, the Maverick will be America's first pickup truck with a standard gas-electric hybrid engine. It earns its name by achieving that milestone, and it earns plenty of attention from automotive enthusiasts with all of its features and capabilities. Trucks have become increasingly popular here in Miami and throughout the United States in recent years, but not everyone wants to have a massive vehicle. That's where compact pickup trucks like this come into play.
The 2022 Maverick is about seven inches shorter in height when compared to the F-150 and three feet smaller in length. It's even smaller than the mid-size Ranger, and it actually comes on the same chassis as the Bronco Sport compact crossover. While it might be smaller in size, the Maverick is big on performance. The vehicle targets 40 mpg city and is expected to get over 500 miles from a full tank of gas.
Hybrid Pickup Trucks for Sale in Miami
Whether you're interested in the 2022 Ford Maverick or the F-150 Hybrid, you can find your fuel-efficient pickup truck here at
Midway Ford Miami
. People come from Kendall and all over Dade County to visit us because of our massive selection, excellent service, and fair prices. We pride ourselves on going above and beyond to take care of our customers, so a knowledgeable member of our staff will take the time to make sure we find the right hybrid pickup truck for you. Stop by today, or
contact us
online for more information.